Cleaning is a necessary chore that many people dislike, and some even despise. However, not everyone has the time, energy, or skills to clean their homes. This creates an opportunity for those willing to clean other people's houses and get paid for it. If you want to earn extra money, cleaning houses can be great. But how do you find houses to clean for money? This guide will share some tips and tricks to help you get started.
Where You Can Find Houses to Clean
Cleaning houses for money can be a great way to earn extra income, but finding clients can be challenging. Fortunately, there are several ways to find houses to clean, and we will explore these in detail below…
Check Online Platforms for Job Postings
The internet is a great place to find cleaning jobs. Some of the most popular job platforms for searching for cleaning jobs include Craigslist, Indeed, and Care.com. Many homeowners post their cleaning needs on these sites, and you can apply for the job directly through the platform. When applying for a cleaning job, make sure to highlight your cleaning experience and your reliability.
Spread the Word with Family, Friends, and Neighbors
Word of mouth is a powerful marketing tool, especially in cleaning. Let your family, friends, and neighbors know you can clean houses. You can also post on social media to reach a larger audience. Create flyers or business cards and distribute them in your neighborhood to get the word out. This approach can help you get your first few clients and build your reputation.
Advertise Your Services in Local Community Groups
Another effective way to find houses to clean is to advertise your services in local community groups. Facebook groups and Nextdoor are great places to start. Many people in these groups seek reliable cleaners to help them keep their homes clean. You can also post flyers or business cards in local bulletin boards or community centers.
Build a Website or Social Media Presence
Creating a website or social media presence can be an effective way to promote your cleaning services. A website can help potential clients learn more about your services and background. You can also include testimonials from satisfied customers to build trust and credibility. Social media platforms like Facebook, Instagram, and Twitter can help you reach a wider audience and connect with potential clients.
Partner with Property Management Companies
Partnering with property management companies is another effective way to find houses to clean. Property management companies are responsible for managing and maintaining rental properties, and they often need cleaners to help keep the properties clean between tenants. Contact local property management companies and offer to provide cleaning services. You may need to provide references and proof of insurance to work with property management companies.
Utilize Word of Mouth Referrals
As you build your client base, you can rely on word-of-mouth referrals to grow your business. Provide exceptional service to your clients, and they are more likely to recommend you to their friends and family. Be sure to ask satisfied clients for referrals and offer a referral discount to encourage them to spread the word about your services.
Offer Special Deals or Discounts
Offering special deals or discounts is a great way to attract new clients and keep existing ones returning. You can offer a discount for first-time clients or offer a discount for referrals. You can also create seasonal packages with deep cleaning services to help clients prepare their homes for holidays or special events.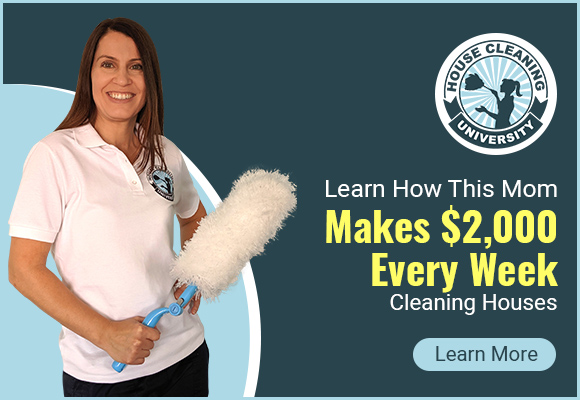 Best Practices for Cleaning Houses for Money
Once you've found your clients, it's important to provide exceptional service to keep them happy and returning for more. Here are some best practices to keep in mind when cleaning houses for money:
Be Punctual and Reliable
Your clients are counting on you to arrive on time and complete the job as agreed upon. Make sure to show up on time, and if you're running late, communicate with your client as soon as possible.
Be Prepared with Cleaning Supplies
Ensure you have all the necessary cleaning supplies before arriving at your client's home. You don't want to waste time running back and forth to the store to buy supplies.
Be Thorough in Your Cleaning
Your clients are paying you to provide a thorough cleaning service. Make sure to clean all home areas as agreed upon, paying particular attention to areas typically overlooked, such as baseboards, ceiling fans, and windowsills. Pay attention to detail; leave your client's home looking and smelling clean.
Set Reasonable Prices
When setting your prices, ensure they are reasonable and competitive with other cleaners in your area. You don't want to price yourself out of the market but don't want to undervalue your services. Consider the size of the home, the level of cleaning required, and how long it will take you to complete the job when setting your prices.
Communicate Effectively with Clients
Communication is key to a successful cleaning business. Make sure to communicate with your clients before, during, and after the cleaning to meet their expectations. If there are any issues during the cleaning process, address them immediately to avoid misunderstandings.
Be Willing to Accommodate Special Requests
Every client is different, and they may have special requests or preferences when cleaning their home. Be willing to accommodate these requests to keep your clients happy. This could include using specific cleaning products or cleaning certain home areas more frequently.

How Much Can I Make Cleaning Houses?
Cleaning houses can be profitable, and the money can vary depending on several factors. These factors include the size of the home, the level of cleaning required, your experience, and your location.
On average, cleaners in the United States make between $15 and $25 per hour working for a company. However, rates can range from $25 to $50 per hour, if you work for yourself.
In addition to hourly rates, some cleaners charge by the job or offer flat rates for specific cleaning tasks. For example, you may charge a flat rate for a deep cleaning job, which could range from $300 to $600, or more, depending on the size of the home and the level of cleaning required.
It's important to research what other cleaning services in your area are charging and set your prices accordingly. You don't want to price yourself out of the market but don't want to undervalue your services.
Another way to increase your cleaning income is to offer additional services, such as laundry or organization. You can charge extra for these services, which can help you earn more money per hour or job.
Overall, the money you can make cleaning houses depends on several factors, but it can be profitable with the correct pricing and marketing strategies. By providing exceptional service and building a loyal client base, you can increase your income and turn your cleaning skills into a successful business.
Final Thoughts on How to Find Houses to Clean
In conclusion, finding houses to clean for money can be challenging, but it's not impossible. By utilizing the tips and tricks we've shared in this guide, you can start to build your cleaning business and earn extra income. Whether you check online job postings, spread the word with family and friends, advertise in local community groups, or partner with property management companies, there are opportunities to grow your business.
Once you've found your clients, ensure exceptional service, set reasonable prices, communicate effectively, and be willing to accommodate special requests. Following these best practices can build a loyal client base and turn your cleaning skills into a successful business.
Remember to be patient and persistent in finding houses to clean. With dedication and hard work, you can grow your business and earn the income you desire. Good luck!