Starting a cleaning business with no money can be done with the right strategies and determination. Keep reading to learn how to start a cleaning business with no money to invest.
How to Start a Cleaning Business with No Money
Starting a cleaning business with no money may seem challenging, but it can be done with these tips and a little hard work.
Start with what you have:
The first step to starting a cleaning business without money is to use what you already have. This may include your personal cleaning supplies, such as a vacuum cleaner, mop, and cleaning products. You can also leverage your existing network of family and friends to get your first clients.
Use free marketing platforms:
Social media platforms like Facebook, Instagram, and Twitter are great free tools to advertise your cleaning services when you have no extra money to invest in marketing. You can create a business page and post pictures of your work, offer discounts to first-time customers, and share testimonials from satisfied clients.
Offer additional services:
You can offer additional services that complement your cleaning services to differentiate yourself from competitors. For example, you can provide laundry services or pet care for an additional fee.
Build your reputation:
Word-of-mouth is a powerful marketing tool, especially when you have no money to invest in promoting or advertising your cleaning business. By providing exceptional service to your first clients, you can earn positive reviews and referrals that can help grow your business.
Invest in yourself:
While you may need more money to invest in your business initially, you can invest by educating yourself on the best cleaning practices, customer service, and business management. You can read books, watch YouTube, attend free webinars, or take affordable online courses to improve your skills and knowledge.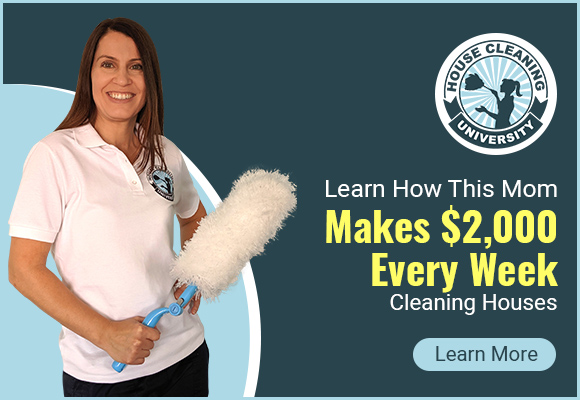 Have No Money for Cleaning Equipment & Supplies?
One of the main concerns when starting a cleaning business is the cost of equipment and supplies. However, you can start cleaning with no money by using the client's equipment and supplies. You don't have to invest in expensive equipment or cleaning products.
When you first start your business, you can ask your clients if they have cleaning supplies and equipment that you can use. Most clients will be happy to provide these items, as it saves them the hassle of purchasing and storing them.
However, it's important to note that using the client's equipment and supplies may only sometimes be practical. If you're working with commercial clients or large residential properties, you may need to invest in some essential cleaning equipment, such as a vacuum cleaner, mop, and broom.
In such cases, you can purchase used equipment at a lower cost or rent equipment on an as-needed basis. You can also borrow equipment from friends or family with cleaning businesses. This can help you get started without breaking the bank.
As for cleaning supplies, you can start with basic items like baking soda, vinegar, and dish soap. These items are inexpensive and can be used for various cleaning tasks. You can also make your own cleaning products using natural ingredients that are safe and effective.
In conclusion, you don't need to invest much money in equipment and supplies to start a cleaning business. By using the client's equipment and supplies, borrowing or purchasing used equipment and making your own cleaning products, you can start cleaning with no money. Just communicate with your clients about their expectations and provide top-quality service, regardless of the equipment and supplies you use.
Starting a Cleaning Business With No Money FAQs:
Q: Do I need a business license to start a cleaning business? A: It depends on the laws in your state or city. Check with your local government to see what licenses or permits are required.
Q: Do I need to invest in expensive cleaning equipment? A: Not necessarily. You can start with basic cleaning supplies and invest in equipment as your business grows.
Q: How can I set my prices? A: Research the prices of other cleaning businesses in your area and set your prices accordingly. Don't underprice yourself, but also don't overprice and scare off potential customers.
Final Thoughts on Starting a Cleaning Business With No Money
Starting a cleaning business with no money may seem like a daunting task, but with the right strategies and mindset, it's definitely achievable. By identifying your target market, leveraging social media and word-of-mouth marketing, utilizing free advertising platforms, providing excellent customer service, offering additional services, and using the client's equipment and supplies, you can start your cleaning business without spending any money.
It's important to remember that success doesn't happen overnight. Building a successful cleaning business takes time, effort, and dedication. You need to be willing to put in the work and go the extra mile to provide top-quality service to your customers. As your business grows, you can invest in more equipment and supplies and expand your services to meet your customers' needs.
Starting a cleaning business with no money is just the first step. The key to success is to look for ways to improve and grow your business continuously. Watch for new marketing opportunities, listen to your customer's feedback, and strive to provide the best possible service. With hard work and determination, you can turn your cleaning business into a thriving enterprise providing valuable service to your community.
So, if you're passionate about cleaning and want to start your own business, don't let the lack of funds hold you back. Follow these tips and strategies, and take the first step towards building a successful cleaning business today!

More Cleaning Business Tips & Articles