As the economy continues to shift, more and more people are turning to side hustles to make ends meet. One lucrative option that is always in demand is house cleaning. If you want to start a side hustle in house cleaning, this guide will provide you with everything you need to know to get started and succeed.
Getting Started with House Cleaning as a Side Hustle
Starting a house cleaning side hustle is a great way to make extra money, but it requires some preparation and planning. Here are the steps you need to take to get started:
Develop a Business Plan: Before you get started, it is important to develop a business plan. This will help you set clear goals and objectives, identify your target market, and establish a pricing strategy.
Determine Your Service Offerings: Decide on the services you will offer, such as basic cleaning, deep cleaning, move-in/move-out cleaning, or specialized cleaning.
Obtain Necessary Equipment and Supplies: You must invest in cleaning equipment and supplies, including a vacuum cleaner, cleaning solutions, and cleaning tools.
Create a Marketing Plan: Once you have your business plan and equipment, it's time to create a marketing plan. Determine your target market, create a brand identity, and develop a strategy for reaching potential customers.
Build Your Reputation: Build your reputation by providing excellent service, being reliable, and communicating effectively with your clients.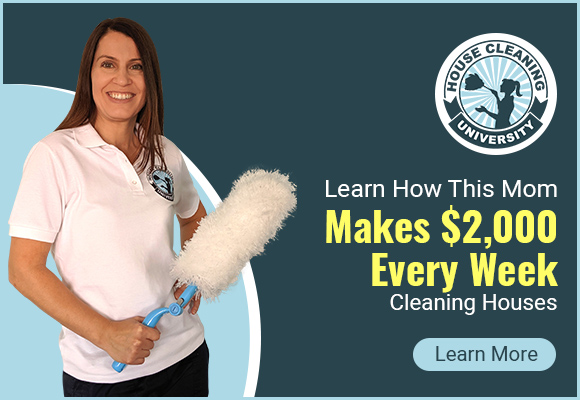 House Cleaning Tips for Your Side Hustle
Now that you have a plan, it's time to focus on delivering high-quality cleaning services to your clients. Here are some tips to help you succeed:
Use High-Quality Cleaning Products: Invest in high-quality cleaning products that will leave your clients' homes sparkling clean.
Pay Attention to Detail: Make sure you clean every nook and cranny and pay attention to the details, such as baseboards, light fixtures, and ceiling fans.
Be Professional and Reliable: Arrive on time, dress professionally, and communicate effectively with your clients. Be reliable and deliver on your promises.
Build Strong Client Relationships: Building strong relationships with your clients is key to a successful house cleaning business. Make sure you listen to their needs and preferences and make adjustments as needed.
Continuously Learn and Improve: Improve your cleaning techniques to stay up-to-date with the latest cleaning methods and technologies.
Why House Cleaning is The Best Side Hustle
House cleaning as a side hustle offers flexibility, a low startup cost, and a high earnings potential. Here are just a few reasons why house cleaning is the perfect side hustle:
Flexible Schedule:
One of the most significant advantages of house cleaning as a side hustle is its flexibility. You can work around your schedule, taking on clients as often or as little as you like. This makes it an excellent option for those with other commitments, such as a full-time job or family responsibilities.
Low Startup Costs:
Another advantage of house cleaning is the low startup costs. Unlike other side hustles that may require expensive equipment or supplies, all you need to get started is basic cleaning supplies and a reliable vehicle.
High Demand:
The demand for house cleaning services is always high. As long as people live in homes, they will need cleaning services. This means there is always a steady stream of potential clients looking for reliable, high-quality cleaning services.
High Earning Potential:
House cleaning can be a lucrative side hustle, potentially earning anywhere from $25 to $50 per hour. This can add up to a significant amount of extra income each month.
Rewarding Work:
Finally, house cleaning can be a very rewarding side hustle. A sense of satisfaction comes from seeing the immediate results of your hard work, and the gratitude of happy clients can be incredibly fulfilling.
Final Thoughts on Starting a House Cleaning Side Hustle
Starting a side hustle in house cleaning is a great way to make extra money on the side. You can provide high-quality cleaning services and build a successful side hustling business with the proper planning, equipment, and skills.

More Cleaning Business Tips & Articles